Government Ceilings

The government has many diverse functions. For this reason, the types of government buildings that are required are equally diverse. What is common in all government facilities, however, is the need for functionality. If a government building becomes dilapidated, it can impede the ability of its occupants to be efficient, and a smoothly running government is necessary for society to function properly. Government ceilings require occasional upkeep. This usually involves cleaning and painting. We specialize is cleaning and painting all types of government buildings for every purpose.
Why Clean Government Ceilings?
Cleaning government ceilings is required for painting. Dirty or rough ceilings will shorten the life of a painting job because the paint will stick to the dirt, not the ceiling. Furthermore, cleaning government ceilings will additionally smooth and level rough surfaces. This will make your ceiling look better in general, as well as make a paint job look more professional. If ceilings are not cleaned properly before being painted, the paint will quickly begin to chip and crack.
Cleaning Methods
There are a few different types of cleaning methods we employ for government ceilings. The most common is sandblasting. The process of sandblasting involves spraying high pressure abrasive material, such as sand or rough beads, at your ceiling. This removes leftover paint and dirt by essentially sanding it away. Additionally, sandblasting helps remove jagged, rough or uneven patches to make the surface uniform.
The second cleaning method we use is pressure washing. In many cases, ceilings aren't excessively dirty and there isn't much leftover paint to remove. In these cases, a stream of high pressure water is all that is required for cleaning. The disadvantage of this method is that it can be messy, and doesn't have the additional sanding effect of sandblasting.
The third cleaning method we use for government ceilings is chemical treatment. This method is used primarily when there is sensitive equipment that might be damaged by water or sand, or when we simply are unable to remove dirt and paint using the other methods. We chemically treat ceilings by applying paint thinners and strippers that eat away paint and dirt.
Painting Government Ceilings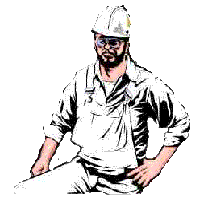 Our biggest priority in painting government ceilings is speed. We want to stay out of the way and finish as quickly as possible in order to minimize the impact we have on government work efficiency. Luckily, you don't have to stop working as we paint. We'll stay out of your way. We have the staff and resources to paint 10,000 square feet per day, and can accommodate jobs up to a few million square feet. Rest assured, our speediness doesn't impact the high quality of our work.
There are a few methods we normally use when we paint government buildings. The first and most common is powerspraying. Powerspraying has all but overcome traditional roller painting in the professional painting industry because it looks smoother and more professional, and saves time and money. However, if your government ceilings require roller painting for any reason, we're happy to accommodate you. Our professional staff is seasoned in all types of paint application.
We serve a variety of government clients including:
City Airports
City Bus Stations
City Courts
City Garages
City Halls
City Jails
City Parking Garages
City Power Plants
City Train Stations
City Warehouses
City Water Plants
City Workshops
County Buildings
County Courts
County Detention Centers
County Jails
County Parks
County Post Offices
County Train Stations
Government Offices
Government Buildings
Government Warehouses
National Historic Sites
National Parks
State Courts
State Government Buildings
State Post Offices
State Post Parks
State Prisons
State Warehouses
Town Buildings
Town Centers
Town Halls
Town Post Offices
Village Halls
Village Jails

Thank you for visiting our Government Ceilings.