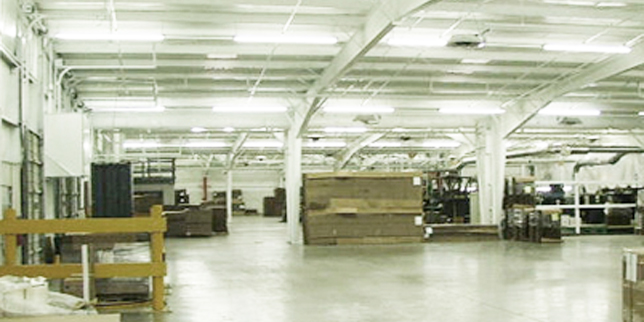 Ceiling painting techniques distinguishes an expert painter from an average painter even for regular painting projects like painting a single-family home or other types of residential buildings. Painting industrial plants, commercial buildings and factories require more skills and extensive experience. This is because painters will paint different kinds of surfaces with considerations not commonly applicable when painting residential homes. In fact, ceilings of factories and industrial/commercial buildings are the most difficult surfaces to paint among other peculiarities of painting buildings used for commercial or industrial purposes. Also, a painter who plans to paint metal surfaces in factories must be conversant with the properties of the paint he intends to use regarding its performance and flammability under such conditions as high temperatures. This is one of the many examples that show the need for expertise in painting ceilings and other areas of industrial plants.
Our Ceiling Painting Techniques
Workmen who are experts in painting commercial and industrial plants and buildings have learnt the skills required for painting varied industrial ceilings such as drywall, concrete, composites, plaster, steel, corrugated, aluminum, mineral surfaces, fiberglass and other kinds of industrial ceilings. In fact, our kind of experienced industrial painters have the capacity and the tools to paint a broad variety of industrial buildings and ceilings such that it is unlikely that there is any type of industrial ceilings' painting project that we haven't done several times before.
According to our painting contractor, since there are different types of industrial ceilings, there are also different types of ceiling painting techniques for painting industrial plants and buildings, one thing that is always necessary is getting industrial fans for the paint to dry faster. Different surfaces require different painting techniques and different tools for cleaning and preparation.
Choice of Paint
The first step in painting industrial ceilings and buildings involves the choice of paint. Paint for industrial painting works differs from house paint. There are special acrylic-based paints for painting commercial or industrial buildings and plants and these are different from the acrylic-based paints for residential buildings. The reasons for these differences include:
1. Industrial paints are waterproof, heavy-duty oil-based paints, by special preparation because such paints are meant to protect surfaces from corrosive effects of chemicals and solvents. Industrial paints are specially designed for extreme durability because of the harsh environments of most industrial settings.
2. Industrial paints stick better to different surfaces including metal surfaces than the acrylic-based paint for residential buildings.
3. Industrial paint last far longer though it is more expensive but buying it is more viable financially for the client because you do not need to call the painters back in a few years to repaint the same surfaces.
Preparation of Surfaces
The first step in preparing industrial ceilings for painting is by cleaning the surfaces thoroughly. It is our standard practice to clean ceiling surfaces expertly with the most cost-effective method and or cleaning solution before painting. Scraping, sandblasting, scrubbing with water and or with detergent, water blasting, power washing, and abrasive blasting in extreme cases are some of the cleaning methods that we usually adopt for preparing industrial ceiling surfaces for painting. The quality of surface preparation before painting determines the quality of the finished work; therefore, we take the prep work very seriously as part of our ceiling painting techniques. When the prep work is done properly, grease, dirt, corrosion, and any other form of debris will be totally cleaned off the surface.
Painting Tools
Selecting the appropriate painting equipment for a particular ceiling painting work is one of the ceiling painting techniques experienced painters know about. Sprayers, rollers and paint brushes could be used depending on the size and complexity of your project. For flat surfaces, rollers are ideal tools for painting. If it is a small scale project, paintbrushes might work well but if painting has to be done over a large area, using a sprayer is the most suitable painting tool.
Choose the Right Weather Condition
Painting on a day when the weather conditions are appropriate for painting is one of the ceiling painting techniques our expert painters keep to. We don't paint on a day when the weather is too humid or the temperature is too low. Paints dry too slowly when temperatures are too low and when the humidity is too high. However, paints shouldn't also dry too quickly. So, we also avoid painting when high temperatures are accompanied with windy conditions. The idea is that the surface to be painted shouldn't be too hot or too cold so that the paint when applied can properly stick to the surfaces and, hence, last longer.
Safety Standards
Ensuring the safety of every crew member is another aspect of ceiling painting techniques. Working at extreme heights and in varying degree of dangerous conditions, as we do on a regular basis, makes keeping standard safety precautions one of our utmost priorities. In addition, any source of ignition like pilot lights, cigarettes must be turned off. It is compulsory to wear the necessary gadgets like rubber gloves and respirator mask fitted with the right cartridges.
Once appropriate ceiling painting techniques are applied when painting your factory or industrial building, you never have to worry about the quality of the finished work.