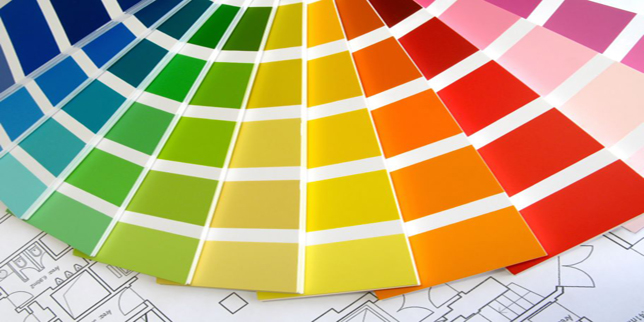 Even though our painting services are for businesses and industry, we all also love to improve our homes on a regular basis. Painting the ceiling is one of the industrial painting jobs we often take on, and it is also a job many home owners take on in their homes. As a home is much smaller than a business, painting the ceilings can be done yourself, especially if your ceilings are flat without chipped paint or molding to work on. Unfortunately, it isn't that easy for some DIY'ers for obvious reasons; it is falsely considered messy and a challenging task to do. But with the right tools and following appropriate ceiling painting tips, you could get the best possible results from painting the ceilings on your own.
Here are some ceiling painting tips that will get you great looking ceilings and some excitement in addition.
Think Out of the Box
By choice, most people paint their ceilings with white paint but you can think out of the box by carefully deciding on the type of white paint to coat your ceilings with. There are a variety of white paints; warm-toned white, white paints with some dints of cool blue and semi-gloss or glossy latex white paint. The latter is much suitable for painting the ceilings of humid rooms like the bathroom.
You might explore other colors besides white for painting your ceilings because white doesn't have to be the only choice you have. Think of painting your ceilings with a contracting color to your walls which might add some fun and excitement to your home.
Go for the Right Tools
We all know that using the right tools for the right task makes it easier working a job. One of the great ceiling painting tips from the pros shows the need to buy the right tools for painting ceilings. Go get a paint roller plus an extension handle. It is the painting tool you need to paint your ceilings while standing on the floor compared to painting while standing on a ladder. Using a roller pole extension makes painting ceilings easier and less tiring especially on flat surfaces. If you are painting a textured ceiling, get a thick-nap roller; it is the right tool to work with for covering all the irregular shapes in the textured surface evenly with paint.
Paint the Entire Outer Edges First
Once you get set to start painting, the next of the ceiling painting tips applies; get the ceiling edges trimmed out first. That is quite easy to do. Just paint the entire outer edges of the ceilings towards the area where ceiling and wall meets with a brush. It is important you get this aspect right because it will help you avoid eyesores in the areas where the ceiling meets the walls. Also, note that it might take a longer time to do the trim out compared to painting the large open spaces it carved out. If there is any light fixture on the ceiling, trim this out as well.
If you know you won't be painting the ceilings as regularly as you do the walls, it is better you paint it with primer first before painting it with the final ceiling paint you planned to use. Once you are done with the trim out, paint the entire open space. A second coating with the final ceiling paint might be necessary.
Ceiling Painting Tips for Low and High Ceilings
There are homes with low ceilings while there are homes with high ceilings. If your ceilings are high, consider painting them slightly darker than your walls but if your ceilings are low, you might think of using paint slightly lighter in color than your walls. The idea is to make your low ceilings appear to add height or appears to lose height if they are high ceilings. It is all about aesthetics; adding beauty to your home environment by means of painting the right way.
How to Apply Paint on Ceilings with a Paint Roller
One of the most important ceiling painting tips is how to use the roller to paint ceilings. Professionals have advised that the best way to paint ceilings with a roller is by rolling the paint on in straight lines rather than following the ''W'' pattern best used for painting walls. The reason is that rolling the paint helps conceal any mark left behind by the roller. The pros have also advised that the roller should be rolled with paint on the ceiling parallel and in opposite direction to the entrance to the room. In addition, where the ceilings of humid rooms are being painted with glossy paint that is best adaptable to moisture and hinders possible damage to the ceilings, every new line of rolling paint should be overlapped with paint up to 6 inches thickness. This is to prevent roller marks from showing because glossy paints are more susceptible to showing roller marks due to the sheen in them.
If you were looking to paint your ceilings but didn't know what to use, where and how to start, I hope the above ceiling painting tips have given you enough information that will get you started on the way to an exciting looking ceiling and a home that looks brand new.
Find more ceiling painting tips at CeilingPaintingUSA.Com.
Call 1.800.354.9165 we can help you with even more ceiling painting tips.