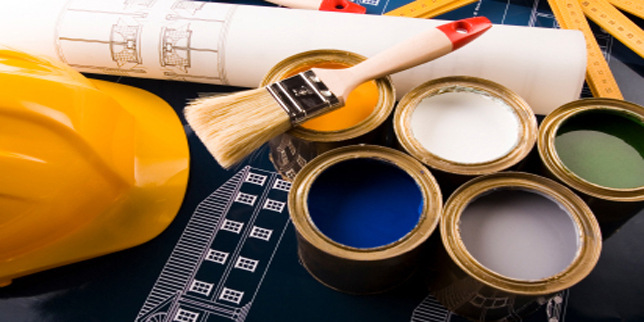 One of the most overlooked areas in a business is the ceiling. We tend to spend the majority of our time, fussing over which color to use in which room and then just paint the ceiling white. There isn't anything wrong with white ceilings, other than most ceilings are white. Why not try something different for your ceiling. Our businesses should be a reflection of our personality; your ceiling is just as important as your walls. Here are a few ceiling painting ideas to get you on your way to that perfect ceiling.
Traditional White
There is a reason why white is the traditional choice for ceiling paint color.  Painting your ceilings white can help reflect light, making your room brighter. It can also make a ceiling seem higher. When used against bright colors, white can make the room look more polished and elegant. However, some people think white just seems so business-like and not at all businesses. If you feel this way too, try softening up the space by using an off-white shade or a lighter neutral color.
Choosing the Right Finish
In most cases, a flat paint is used on ceilings. Satin and Eggshell are two other choices you have to use on your ceiling. Before you use any type of finish, you need to know the condition of your ceiling. Either one of these types of finishes can make flaws in your ceiling stand out. If your ceiling doesn't have any flaws, using one of these finishes can certainly brighten up your room. Also, if you are using a bold color on your ceiling, eggshell and satin finishes can soften the color.
What to do about Textured Ceilings
Popcorn and other textures on your ceiling can really make your business seem dated. Not only is it hard to remove, it can be expensive. A simple way to update the look is to apply two different colors. By using a paint sprayer to apply the base coat and a roller for the top coat, you can create a ceiling that looks like you spent hours sponge painting it. The second color will really stand out and it will add a ton of personality to an otherwise boring ceiling.
Choosing your Color
It is a myth that ceiling must be painted the same color as your walls. If you are looking to add a splash of color, but don't know what color would work best, try looking around your room. Try using a color from your furniture, curtains or rugs. But, you need to keep in mind, that if you use dark colors, your room will feel cramped. Using lighter colors will keep the room feeling airy.
Decorative Touches
Occasionally just adding a new color is not enough to liven up your space. Every once in a while a little something more is needed to truly showcase your personality. How about painting a mural on your ceiling? Or use a faux finish to make your ceilings look like copper or even wood. Using a faux finishes can make any ceiling look stunning. You could also consider adding a medallion around the base of a ceiling fan or light fixture. They can a touch of elegance and can be found in just about any shape or style you can imagine. Most are made of light-weight plastics or composite materials and can be painted to suit you. Use just one, or use several to create unique designs or even to cover your entire ceiling.
Ceiling Panels
Ceiling panels can really make your space seem unique. They are a great solution for a less than perfect ceiling. Ceiling panels come in a variety of finishes from steel and wood to even copper or tin. If you are feeling adventurous, how about combining different types of panels to create unusual patterns or even pairing the panel with a bold patch of color for a dramatic effect. Ceiling panels can even be used to create a border around your ceiling or for creating a recessed looking ceiling.
Create a Mural
A mural is a very artistic way to add some creativity and interest. Why not have one on your ceiling? If you don't feel confident that you can paint perfect murals, there are many ways you can still have one. You could hire a professional but, why not use stencils to crest the perfect mural for your space?  You might also consider ordering a mural that can be glued to your ceiling like wallpaper is. Speaking of wallpaper, there are so many designs available today that you might want to take a look and see if you find some that might work for your ceiling.
Ceiling Painting Ideas
No matter what your personality or style never be afraid to try something new. If you need to ease into it, try just adding something simple, like a medallion or panel. If you get stumped on colors, why not pin them to your ceiling to get an idea of how they would work. Your ceiling is a small part of your room, but just because it is small, doesn't mean it should be overlooked.
Find more ceiling painting ideas at CeilingPaintingUSA.Com.
Call 1.800.354.9165 we can help you with your ceiling painting ideas.