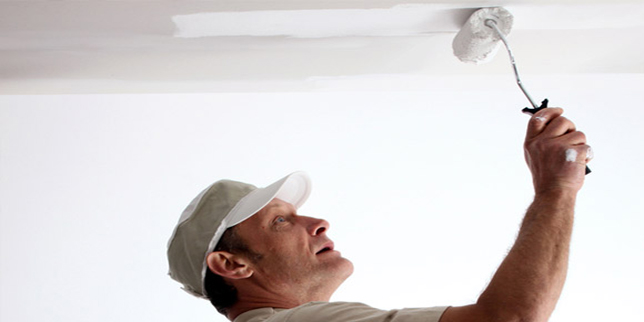 Have you ever wished you could know the secret of painting your ceilings in a way that offers a combination of beauty, easy care and cool ambience? Experienced painters continued to use creative ceiling painting ideas to enhance the feel and theme of ceilings in many homes and industrial environments. There are different kinds of ceiling paints to choose from and there are several unusual but creative ideas for painting ceilings whether it is for a single-family home or commercial and industrial buildings and plants. If you are looking to improve the look and feel of your ceilings, start by choosing the ideal colors for your ceilings and get an experienced painter to paint with expert instinct.
Choosing the Right Type of Paint and Color for your Ceilings
Take a look at your ceilings. Do you see a new perspective or is it just painted with some ubiquitous white paint? The color of the paint on your ceilings combined with the sheen, texture and creative pattern of the paint on your ceilings can transform the entire ambience of the interior of the building whether residential or industrial. Where possible, try as much as possible to select your choice of ceiling paint from paints specifically meant for painting ceilings. Special ceiling paint is thicker compared with the paint used on walls. The extra thickness makes ceiling paint very good for covering flaws like spots, stains and watermarks that may be on the surface of the ceiling. The following tips will offer you some creative ceiling painting ideas for transforming your space:
1. If the room is large and the ceiling is high, give it a warm and intimate look by painting the ceiling with a deeper shade kind of paint color like a rich cocoa in an eggshell or pearl type of soft sheen. Darker shades also help to conceal awkward variations in ceiling height. It can also help you camouflage flaws in ceilings with poor condition. Painting your ceilings in bright or light color is essential if you want to give an illusion of more space where the space is small or the ceiling is low or of average height.
2. Try black ceilings. Painting your ceilings black is one of the innovative ceiling painting ideas you can try. Black ceilings make a space look industrial and black ceilings can alter the appearance of a room dramatically with a cozy feel. If your ceiling is exposed, instead of trying to cover it up, paint it all black and see the intimate feel you will have from your new look ceiling. Really, black or dark ceilings transform large spaces like a restaurant or large dining room to give a feel that is more intimate.
3. Try a contrasting ceiling. If you are looking for how to achieve a pleasant surprise with ceiling painting ideas, try painting your ceilings with contrasting colors. If your space is cool, try painting the ceiling with warm color but if the space is already wearing a warm look, try painting the ceiling with cool looking color to create a visual balance. If the appropriate color combination is selected, your entire space with the ceilings should look stunning.
4. Try monochromatic ceiling painting ideas. When you paint your ceilings the same color as the wall, you create a monochromatic feel for your space and a sense of endlessness. Try painting with pale colors all round – walls and ceilings – and you will have a soothing and calm ambience.
Creative Ceiling Painting – Light Sources Vs Paint Colors
It is appropriate if you blend light sources with your creative ceiling painting ideas. The source and strength of rays of light into your space must be considered and made to blend just like the paint color. You certainly want the space to be well lit with the source of light it receives during the time you mostly use it. The blush pink paint reflects natural bright light from daybreak when used on ceilings while a ceiling painted in sky blue color produces an airy feeling. If you use your space most often in the night, candlelight and lamplight should be your main sources of light. Therefore, painting your ceilings in tomato red color will produce a rich glow look.
More About Creative Ceiling Painting
Give as much thought to the painting of your ceilings as you do to the demarcating walls of your building whether residential or industrial space. Remember that the color on your ceilings can greatly improve the appearance and feel of your space. However, whatever your creative ceiling painting ideas always try to create a balance; that is, avoid being excessive or else you may grow tired of the look and feel you once cherished. Don't forget to enhance your painted ceilings with trim and borders. Most importantly, let the ceiling surfaces be well-prepared or scuff sanded to remove dirt, oil, grease, debris and corrosion before applying your choice of ceiling paint.
Learn more about creative ceiling painting at CeilingPaintingUSA.Com.
Call 1.800.354.9165 we can help you with your creative ceiling painting.